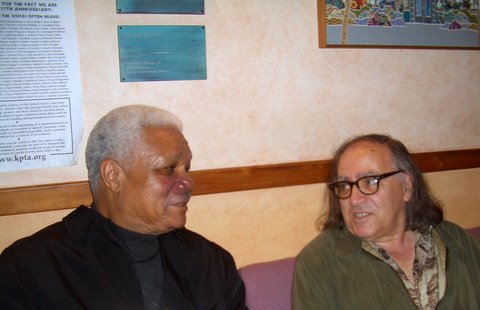 The late Pete Seeger remarked to Amy Goodman that we should imagine the world as a seesaw. At one end there is a basket filled with rocks. At the other end is a basket with some sand. The basket with rocks is very heavy and tips the seesaw. We need to take our teaspoons and fill the other basket. It will take a long time, but if we all do it, one day the seesaw may tip.
KPFA Fund Drive—Cover to Cover with Jack Foley 
Wednesday February 5, 3-3:30pm, 94.1FM
I think of Jack Foley's poetry show, Cover to Cover, on KPFA. Since the 1980's, Jack has been providing the Bay Area audience with a treasure trove of poetry, including interviews with poets, books, movies, music reviews and a plethora of historical recordings. As KPFA is restructuring its programming, one of its criteria of keeping a show is how much income it can generate. Fund drive is test time, and it is important that poets and poetry lovers show their support. Any amount is appreciated. Membership starts at $25. You may call during the show—always a good idea—or donate on line. Do make sure in either case that the credit goes to Cover to Cover with Jack Foley. We need to show KPFA's management that this poetry show matters! Poetry Hotel Press is donating its 2013 titles as thank you gifts (for a pledge of $60 and more). They are Ars Poetica by Ivan Arguelles, EYES  by Jack Foley, and Babouche Impromptu and Other Moroccan Sketches by Clara Hsu.  I will be pitching with Jack for this show. Let us hear from you! As Jack said, "We can do this."
–Clara Hsu
*
In the magazine turnrow (Summer, 2004), Dana Gioia writes, "Jack Foley has a literary radio show on KPFA that may be the best thing of its kind in the country." Having heard one of Foley's shows on Arabic poetry, a listener wrote in, "I'm not drawn toward a lot of poetry—yet—but I was captivated when I heard not only Arabic, but Arabic poetry on your show. I was quite moved. I sat in my car in the rain last Wednesday and ran down my battery, unable to move until the show was over. I've heard many recitations from the beautiful Qur'an, but the voices of these poets were very different. Thank you. Thank you." There have been many other testimonials.
Photo: Al Young and Jack Foley at KPFA.