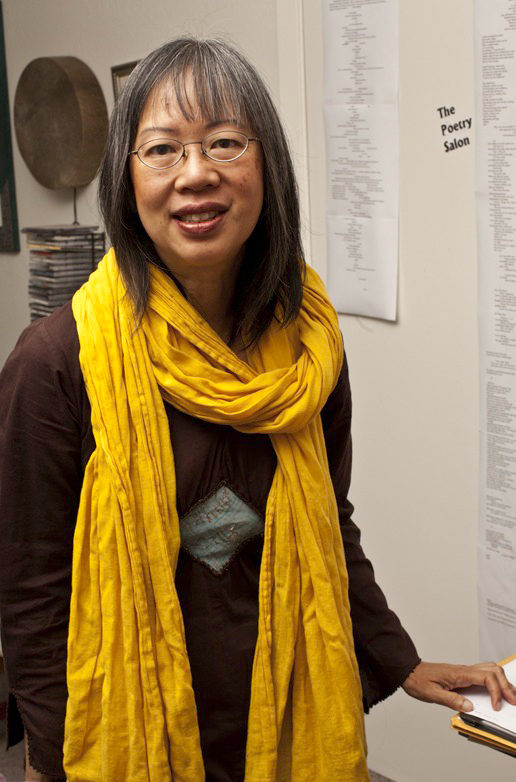 Clara Hsu practices the art of multi-dimensional being: mother, musician, purveyor of Clarion Music Center (1982-2005), traveler, translator and poet. A nominee for the Pushcart Prize in poetry (2001), Clara's first book of poems, Mystique, received honorable mention at the 2010 San Francisco Book Festival.  A book of short stories, Babouche Impromptu and Other Moroccan sketches was completed in 2008 and published by Poetry Hotel Press. Her work can be found in New Millennium Writings (2012), Hafenklänge, Havenklanken—Sounds of Harbor (translations of her work into Dutch and German), The Haight-Ashbury Literary Journal, and the internet journals Cha, The Other Voices International Project, and Red River Review. She was the featured poet in the 33rd issue of the British poetry journal, Erbacce.
Clara gives featured readings at various Bay Area venues and benefit events, often in collaboration with others such as Bill Mercer and Jack and Adelle Foley. Her activities include her unusual performance ensemble "Lunation," which combines Chinese and original poetry with Asian traditional instruments. For seven years she hosted the Poetry Hotel Salon in San Francisco and with John Rhodes she co-hosts the San Francisco Open Mic Poetry Podcast TV Show. With Jack Foley she co-edits Poetry Hotel Press.
Poet Avotcja writes that "Clara Hsu is to the page what Chinese opera and Bruce Lee are to the stage," and San Francisco Poet Laureate Jack Hirschman speaks of her "inner virtuosity."
The First to Escape
The First to Escape is that rare volume of contemporary poetry that carries the weight of its ancient and modernist predecessors while remaining passionately engaged with its own time. It plunges the heights and depths and a myriad of other directions with a multitude of facets, faces and voices. Multicultural, multiethnic, yes, but intimate, not exotic, with openings into surprising and mysterious familiarity. "Brilliant darkness." What Clara Hsu renders here is a deeply moving and masterfully articulated musical language – a poetry that draws us into a conversation beyond ourselves, beyond any closed idea of self. This is vital work by a fully realized poet.    
—Jake Berry
 Read Christopher Bernard's review on The First to Escape here.
The First to Escape Book Launch at Sacred Grounds Cafe, San Francisco. July 16, 2014.  Video by Martin Joseph.
Babouche Impromptu and Other Moroccan Sketches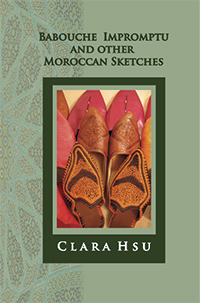 Travel with Clara Hsu, San Francisco poet and writer, to Morocco's ancient D'jamaa Elfna Square. See how the local inhabitants open their hearts to a stranger. Discover a masseuse's generosity, a sorcerous story-teller, an obliging old street musician, and the rectitude of a young girl. Visit a fatherless boy who must grow up quickly in order for his family to survive. Find out what Moroccan hospitality really means. Every moment a story unfolds. Beneath the veneer of a different language and culture, we savor the common bond of human connection.
Babouche Impromptu is available at Amazon.com
Read review by Jack Foley on this book.

Click spiral to Clara Hsu's website.
Clara Hsu photo by
Bob Fischer
.