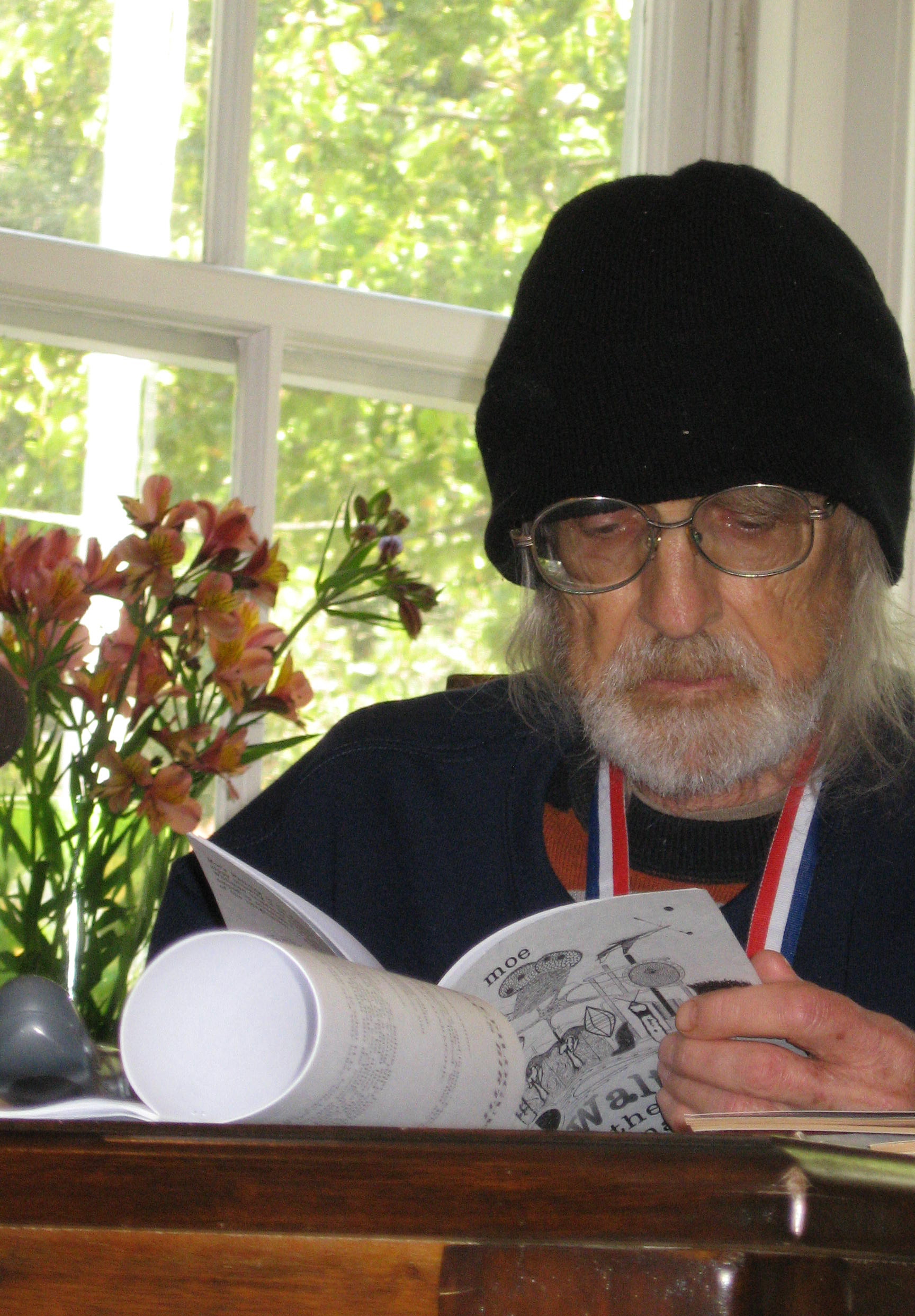 H.D. Moe (1937-2013) is considered one of the most important of the "baby beat" poets. Raised in Oregon and California, he served in the U.S. Navy during the Korean War and later attended school on the G.I. Bill. He studied at various times with a number of famous writers including Theodore Roethke, Philip Whalen, and Bernard Malamud. Suffering from dyslexia, he developed his own style of "jazz poetry," with vivid imagery and unusual juxtapositions.
His poetic activities included publishing Lovelights, the Erotic Poetry/Art Newspaper of San Francisco (at one time the most widely-distributed poetry publication in the world); curating two art galleries; and, in 1978, coordinating the San Francisco Poetry Festival. He published over 30 books of poetry, which include Ozone Allah, The Logic of Snowflakes, Quarks Heart, Immortal Amebas Jigsawpuzzle Electron Gambling Hong Kong—The Cup Lands On The Saucer, and Muse News (City Lights, 1988). Living in Berkeley, CA, he participated in numerous poetry readings throughout the San Francisco Bay Area, contributed to Beatitude Press and edited the Berkeley Review of Books. He also published a book of philosophy, How to Be God Now and worked on a book of Utopian fantasy, Royal Poetopia and the Wild Law Civilization. His death brought forth a spontaneous outpouring of poems, memories, stories, commentaries from the San Francisco poetry community.
Website: www.hdmoe.com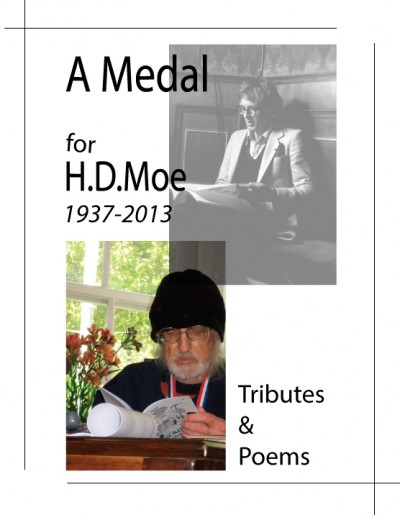 Poets of San Francisco Bay Area and beyond pay tributes to H.D. Moe–mystic scientist, promethean fox, dreambeing–who passed away on August 20, 2013. This book is a journal chronicling the last days of the poet by his friends through comments, remembrance and poems.
Copies of the book will be available at H.D. Moe's memorial service on October 20th at Humanist Hall, 27th and Broadway, Oakland, from Noon until evening.
The book is also available at Amazon.com
Review by Kim C. Mcmillon
H.D. Moe was about community. As a poet in the Berkeley/Oakland/San Francisco arts scene, if you were lucky, you were a part of H.D.'s email list, and would receive poems like the one written below, gifts from a poetry master, a magician, come to Earth to celebrate words. The reason why A Medal for H.D. Moe: Tributes and Poems is such a beautiful book is that the community is giving back to him. We can not take our poets lightly for they are the wayshowers, the angels dropped to Earth to light our way. This book was compiled by Jack Foley, another poetic angel, to help us remember that H.D. Moe was a gift to all of us to be shared if only for a little while.
Rest sweet soul, for you are truly remembered with love.
*
Quicker than now
heavenly velleities float me awake
imagos shuttlecraft thru unreturned echoes
ovalling nighttimes in-between dreams
privatizing energy faces itself & spins the making of creation
gone before any mind whittles up one dawning thought
ahead of every start
outrunning photons
simultaneous always
fasting on infinite tomorrows
more ancient than each source's birth
mirrored by a hologramic dewdrop
swimming beyond reflection
fading into invisibility
silent as listening
untouchable touch
off-balanced alive
too neutral to taste anything other
iterated without ritual or know-how
erasing dusty skulls
avoiding yama
not here or there
the becoming of becoming
– H.D. Moe
Read Jack Foley's essay–  H.D. Moe (1937-2013): Fluxional, Vehicular and Transitive on Poetry Flash